Business Intelligence Services
Business Intelligence is one of the fastest growing segment in IT. Using right tools and right Business Intelligence Methodologies you can surely uncover many hidden facts from your data. Our vast experience in Business Intelligence area can bring you significant ROI.
BI technologies provide historical, current, and predictive views of business operations. Common functions of Business Intelligence technologies are reporting, online analytical processing, analytics, data mining, business performance management, benchmarking, text mining, and predictive analytics.
What can I do with Business Intelligence?
With right use of Business Intelligence Methodologies and Tools you can perform many type of analysis which is typically hard to do or impossible using traditional systems such as
Find patterns from ClickStream data of your website users and uncover facts how can you tweak your site to increase visits
Increase product sales by offering correct product based on customer preference
Analyze sales data usually generated by multiple systems and data stored at different locations
Find which business segment is profitable
Visualize trend and create dashboards of various systems by combining data
What makes it hard to analyze data smart way
Most of the times analyzing your data smart way is not easy because of multiple reasons such as
Data scattered in multiple systems possibly in different formats (e.g. SQL Server, Flat Files, Excel, Oracle…)
Data is not cleaned. Usually containing garbage values or unwanted characters making it hard for analysis
Data is not consistent. You may have multiple version of same information (e.g. same product named different way)
Volume of data is too much to analyze in real time or given timeslot
We can help you to overcome above challenges using our BI Methodologies. We can work on every aspect of BI System and make sure you get best out of it. Here is high level overview of Business Intelligence System Components.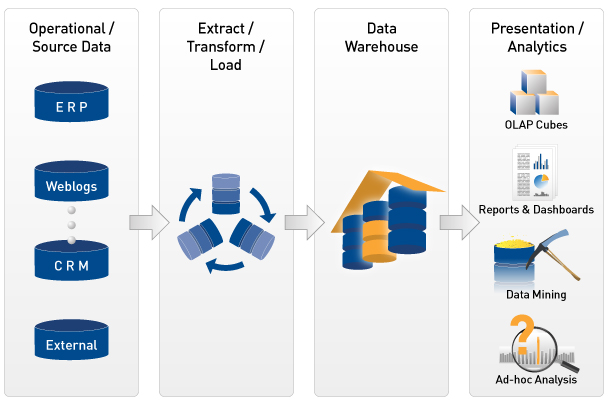 Our Business Intelligence Project Life Cycle
Our systematic approach working with BI Project will achieve greater success. Here is our project life cycle for typical BI Project.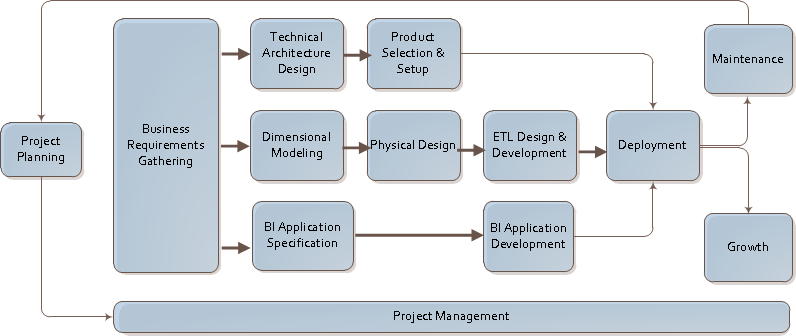 Technologies
Microsoft SQL Server 2005, 2008, 2012
Microsoft Integration Services (SSIS)
Microsoft Reporting Services (SSRS)
Microsoft Analysis Services (SSAS)
Informatica PowerCenter
Tableau
Power Maps
Power Query
Power Pivot
SSAS Tabular
SSAS Multi Dimensional
SharePoint